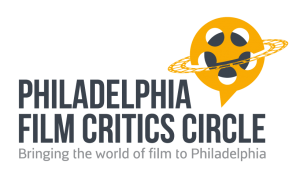 FOR IMMEDIATE RELEASE
Contact: info@PhilaFCC.org
PHILADELPHIA FILM CRITICS CIRCLE ANNOUNCES LAUNCH
Critics group will present annual awards, seek to elevate film culture in the Philadelphia region.
PHILADELPHIA, PA, June 21, 2017: A group of prominent film critics are excited to announce the formation of the Philadelphia Film Critics Circle (PFCC), the Philadelphia region's first-ever society of dedicated film critics. The organization will present annual year-end awards while also seeking to promote, elevate and encourage the dynamic cinema culture in the city of Philadelphia and its surrounding region.
The group's goals are to present yearly awards for the best in film, while also seeking, in any way we can, to support film culture and appreciation in Philadelphia. The Philadelphia Film Critics Circle was founded by longtime local critics Rich Heimlich (of slashcomment and Broad Street Review) and Stephen Silver (of Splice Today, Screenrant, Philly Voice and Broad Street Review.)
"The world needs to know about the thriving film community here in Philadelphia. This organization is just one of the ways we can help make that a reality," Heimlich said. "The film critics of Philadelphia are consistently among the best in the business. It's only fitting that they have an organization to highlight that."
"We love our city, and we love the film tradition in our city," Silver said. "We want to take this opportunity to nurture that in any way we can."
In addition to the founders, the group at launch also includes longtime former Philadelphia Inquirer critic Carrie Rickey, now of CarrieRickey.com and Truthdig; Gary Thompson of the Philadelphia Inquirer and Daily News;  Bill Wine of KYW and CBSPhilly; James Berardinelli of ReelViews; Patrick Stoner of WHYY TV and PBS syndication; Gary Kramer of Salon and Alternet; Scott Weinberg of Nerdist and Thrillist; Michael Dennis of ReelBlack and ReelBlack TV; Piers Marchant of the Arkansas Democrat-Gazette, Kam Williams of Baret News Syndicate and the Philadelphia Sunday Sun; and Dan Tabor of Geekadelphia. Qualified members will be added over time.
For many years, Philadelphia has been the largest city in the United States without a dedicated critics group and critic awards, and the formation of the PFCC is the culmination of a long period of discussion and consideration. "Philadelphia's a great place for making movies, for seeing movies and for talking movies. The next logical step is awarding movies," said member Carrie Rickey.
The Philadelphia Film Critics Circle will present awards this fall for the Philadelphia Film Society's 26th annual Philadelphia Film Festival, followed by its first critic awards this December, in a variety of categories. Other plans are in the works, including a group podcast, film talks and community outreach initiatives, other live events, and partnerships with local cinematic institutions.
The PFCC's website is PhilaFCC.org; you can follow the group on Twitter at @PhilaFCC. For more information, or for sponsorship opportunities, contact the group at info@PhilaFCC.org.